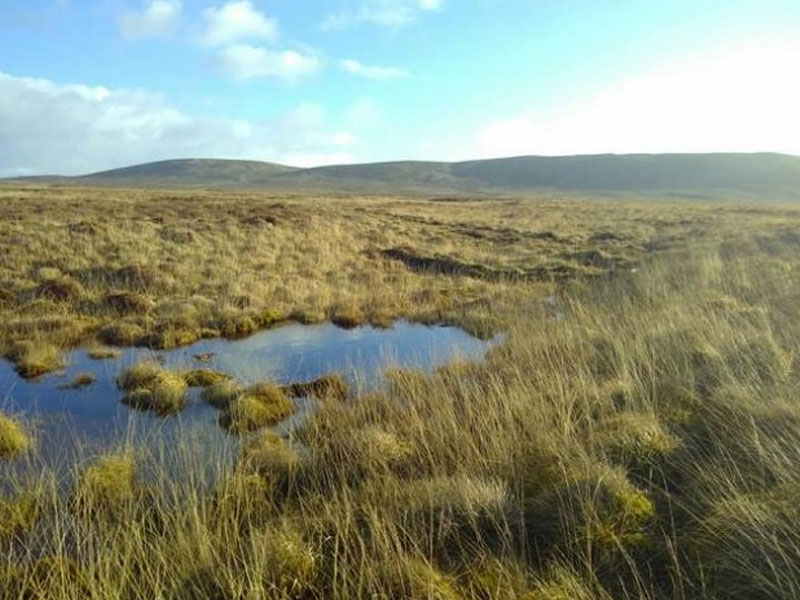 The moors of East Ayrshire once gave the world the carbon that causes global warming. Now they will soak the same element up. Scientists are celebrating after restoring more than 600 hectares of peat bog across the old coalfields on the hillsides above pit villages such as Auchinleck and Mauchline.
Their work is part of a nationwide programme of peatland restoration, a critical effort to recreate the boggy carbon sinks that once made up much of Scotland.
The Scottish Government has just announced another £1.5million in funding for such efforts as it seeks to regenerate some 250,000 hectares of peat bog by 2030. Four-fifths of Scotland's peatlands are now listed as damaged.
An army of expert contractors and volunteers from East Ayrshire Coalfield Environment Initiative (CEI) created or repaired the 600 hectares of peatland, including 130 within the Muirkirk Uplands Site of Special Scientific Interest.
CEI manager Daisy Whytock said: "Peatlands make up one-fifth of the land cover in East Ayrshire, and much of this area has been degraded in some way.
"The peatland restoration work carried out by the CEI, its partners and local land owners has the potential to benefit biodiversity, the environment and local people."
The work at Muirkirk was carried out over winter with the help of Sorn Estates, which will farm the moors.
Between December 2018 and February 2019, specialist peatland restoration contractors installed more than 4,000 dams and water-retaining bunds across a dense network of old ditches to re-wet the degraded peatland.
Peat-forming Sphagnum mosses and bog plants can now grow in the blocked ditches and will slowly seal them with new peat.
This work will help reduce greenhouse gas emissions, improve local water quality and protect habitat for rare species such as hen harriers, curlew and Large Heath butterflies.
A healthy bog acts like a sponge, capturing rainwater during storms and slowly releasing the filtered water into local river catchments throughout the year.
On drained peatlands rain water pours into ditches and watercourses carrying eroded dry peat. This contaminates water courses and increases the risk of flooding. By blocking drainage ditches, local rivers and communities will benefit from improved water quality.
These special wetlands are home to many rare plants and animals that are specially adapted to the soggy conditions. Draining the bog makes it harder for these wet-loving species to survive and prevents the formation of new peat.
Peat is formed from partially-decomposed plant material that accumulates in the wet, acidic conditions. As they grow, peatland plants trap carbon from the atmosphere that is then stored as peat below the bog's living surface.
Drained peatlands release vast amounts of carbon back into the atmosphere. It is estimated degraded peatlands contribute 5.6 per cent of global, man-made CO2 emissions. The peat soils at Sorn Estate are more than 20ft 6 metres deep in some places and the work carried out by CEI will help keep the peat locked away. A wet surface covered in bog mosses will also capture more carbon from the atmosphere, helping to combat climate change.
More than 20% of Scotland's land area is covered in peaty soils. Large areas have been damaged over centuries, with extensive damage to the core peat reserves and its specialised vegetation.
Scottish Natural Heritage's Peatland Action said Scotland losing the carbon stored in our peat soils would be the equivalent of more than 140 times Scotland's annual greenhouse gas emissions. So far 15,000 hectares has been saved.
UK authorities have previously said they wanted to phase out peat compost for amateur gardeners by next year.
Written by David Leask and published in The Herald Scotland.